About Firetec Systems
FSL are an internationally approved and certified gaseous extinguishing system manufacturer. The organisation's original form (established in 2008) was rebranded FSL (Firetec Systems Limited) in 2013, and from inception to date, we have gained traction and built sustainable business partnerships within our industry. This is based on our first-class service, reaction time, commitment to quality and high ethical standards. The organisation is under new management, who will use the excellent technical and operational base forged over the previous years, to modernise, develop, and support our customers with existing and developing sustainable solutions, not only in product technologies, but in technical and operational support.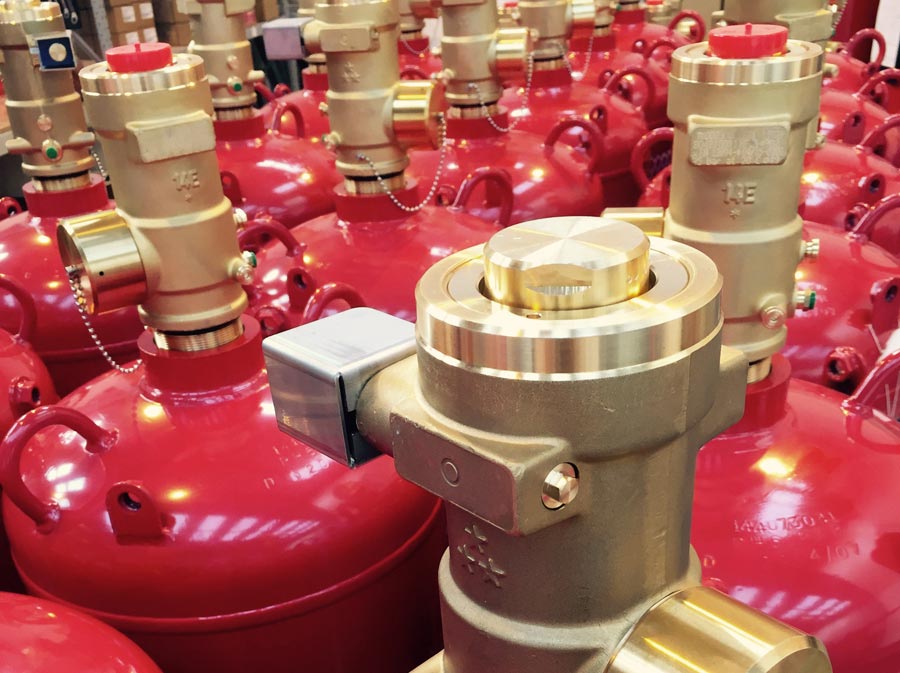 FSL's Mission
To create the world's first Active Fire Protection business around sustainable technologies, gaining global recognition for dynamism, innovation and customer focus.
Moving the market away from traditionally sourced options to new integrated application driven solutions, focusing on dynamic web based support packages
Empowering the team to take ownership, ensuring the highest level of communication with each other, our customers and stakeholders.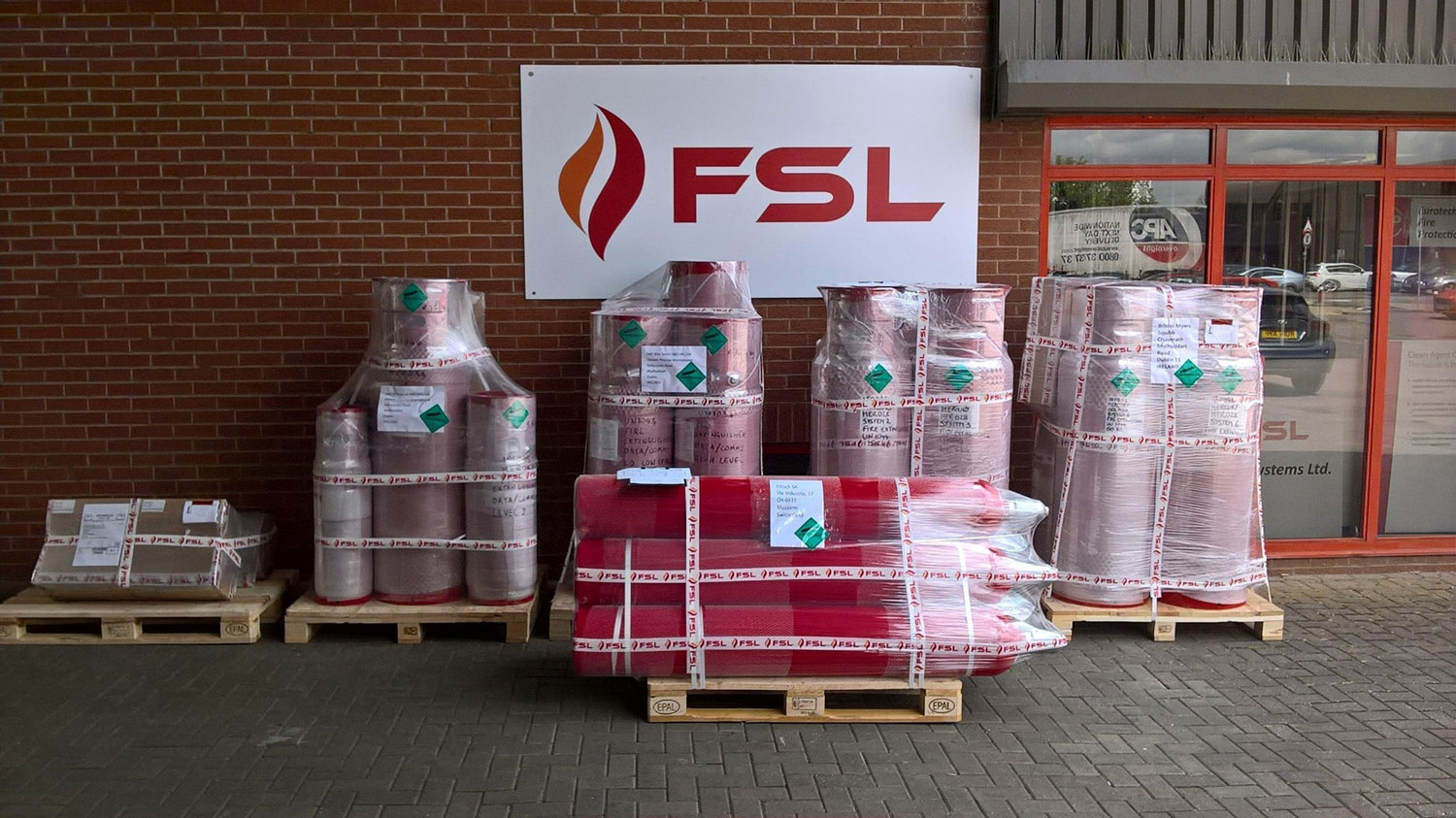 Clean Agents
Inert gases make up our atmosphere. Inert fire suppression systems are simply air without oxygen. They are environmentally neutral, zero ODP (ozone depletion potential) and zero GWP (global warming potential).
Inert systems are designed to extinguish most fires within 60 seconds by reducing the oxygen levels within the protected enclosure to approx 12.5% a level below which combustion cannot be sustained eliminating fire quickly and effectively. Inert gas systems are ideally suited to the protection of fixed equipment and plant.
They are particularly applicable for high value risks where fires can have devastating consequences way beyond the cost of damage and lost production.

Clean agent chemical gaseous fire protection systems reach extinguishing levels in seconds.

They work by breaking down the combustion process via heat absorption and chemical interaction, stopping ordinary combustible, electrical, and flammable liquid fires before they cause significant damage. In addition, they are non-conductive, non-corrosive, safe for equipment and, most importantly, safe for people.

The agent is stored in the cylinders as a liquid and then super pressurised with nitrogen. By value engineering system design, it is possible to minimise cylinder footprint thus saving space and weight.
Inerts
Environmentally neutral zero Ozone Depleting Potential and Zero Global Warming Potential
Fast acting and effective against nearly all fire hazards

No post-fire residues or damage to protected equipment

Electrically non-conductive, noncorrosive and safe for equipment

Safe for use in occupied areas

Minimum downtime and business disruption after a fire

Chemical

FSL offers both inert and chemical gaseous suppression systems, more information can be found on our products pages

Highly efficient, fast extinguishing time reduces downtime and helps maintain business continuity

High safety margin designed to put out fires long before it reaches a level of concentration that could adversely affect humans.

Reduced installation, servicing and maintenance costs due to smaller hardware requirements.
Investment in approvals
FSL has become the first non-France based company to achieve the prestigious A2P certification for the FSL Inertech IG-55 system.
This is a dynamic pressure controlled system that is extremely flexible and can be adapted to fit new pipe system installations as well as retro-fitting old. Due to the pressure controller the system can allow for smaller diameter pipe-work and reduced installation time as well as having lower pressure rated components downstream of the pressure controller - an innovative product at a great price, now fully A2P certified in conjunction with Adefi Securite, our APSAD approved installer in France.
Adefi and FSL are very proud to promote the use of this system across all regions requiring the CNPP 3rd party accreditation and would be happy to provide a quotation or any other information as required.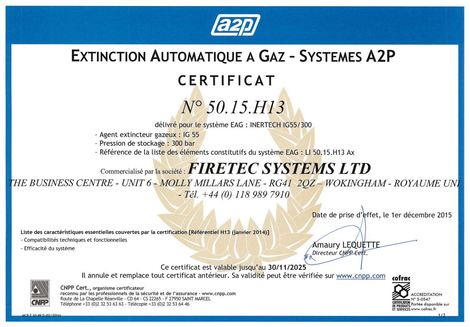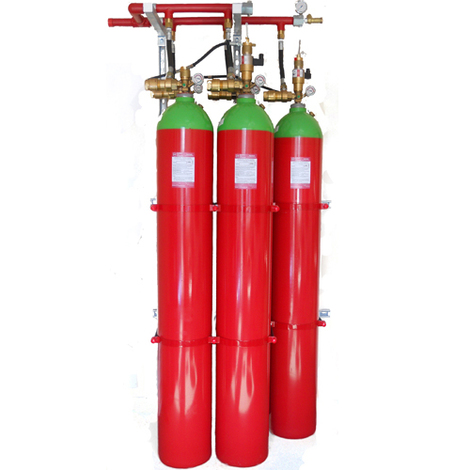 SUSTAINABLE SOLUTIONS
Sustainability is no longer a fringe or feel-good issue, but rather a matter of managing and reducing risk to people, property and business organisations economic well-being.
For fire protection engineers all over the world, todays challenge is to balance the benefits of extinguishing speed, minimum collateral damage, compact design and human safety, with adherence to the most acceptable environmental criteria for future generations and longevity of equipment.
Sustainable fire suppression technology can be defined as one that extinguishes fires effectively; is economical to install and maintain; and perhaps most important in todays business climate, offers a favourable environmental, health and safety profile allowing it to be used both today and in the foreseeable future with little or no regulatory restriction.
Reliable
With the never ending possibilities and capabilities of the internet and cloud computing, FSL is developing multiple levels of services for its customers long term benefit.
We are developing a platform for access to software, quoting tools and online storage of designs and quotes accessible from anywhere. We also hope to facilitate the ability to share large files.
The level of customer contact will be determined by you the customer. We are calling this our Customer Portal. We have plans for this to be a multi-faceted website in that we would offer the same functionality within a Specifiers/Consultant Portal and beyond that a Suppliers Portal, allowing non-company private information to be shared in order to determine market trends and historical buying habits.